It's HERE!
Adventures with the Mojave Phone Booth
249 pages, fully illustrated, signed by the author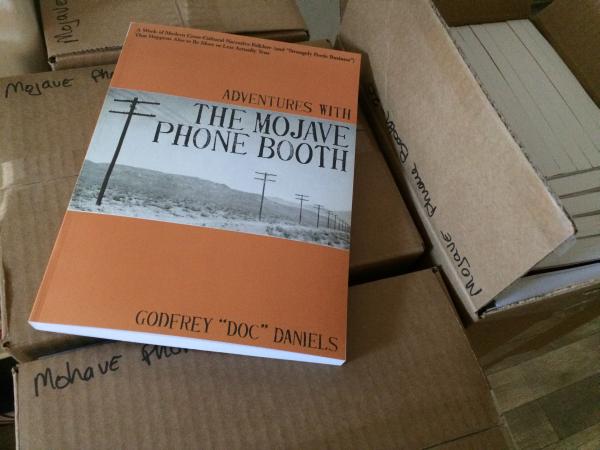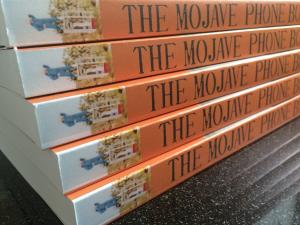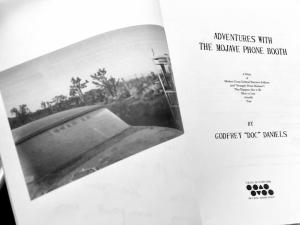 Photo by Colleena S.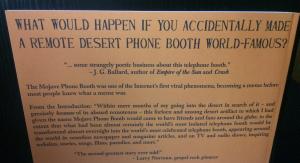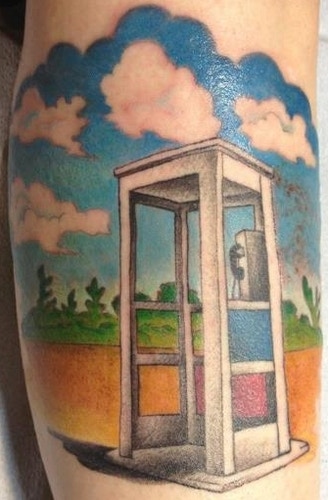 Adventures with the Mojave Phone Booth tells the tale of what can happen when one accidentally makes famous an isolated telephone booth sitting in the middle of the Mojave Desert, which I did, beginning in 1997. I'm Doc, proprietor of one of the Internet's longest-running (and goofiest-looking) websites, Deuce of Clubs (deuceofclubs.com--originally under the aegis of another of Thee Ancient & Accepted Order of Websytes, Cardhouse.com). Deuce of Clubs has become familiar over the decades (yep--decades!) for any of a number of various nutty features and undertakings (Whip It!, the Herb Alpert Whipped Cream & Other Delights art car, Amy Grant's Mandible, Mountain Monograms, oobiland, the wanderings of my statue of Wagner, and 5,000+ other pages of foolish delights). But Deuce of Clubs is most known as the home of the Mojave Phone Booth Project, inaugurated when I began obsessively dialing the number of a phone booth in the desert that I wasn't sure even existed until I eventually began visiting it in person. After its inclusion on Deuce of Clubs, the Mojave Phone Booth's fame spread quickly, by means of just about every major world newspaper, TV network, and radio station, and its widely flung influence and inspiration was seen, for example, in a Paris art installation by Frank Gehry and Sophie Calle, in Italy's most popular comic, in David Letterman bits, in published interviews with J. G. Ballard, and even in the Ripley's Believe It or Not comic. The Mojave Phone Booth quickly came to have multitudes of admirers around the globe, to the extent that what had been almost certainly the world's most isolated telephone booth would be transformed almost overnight into the world's most popular telephone booth, becoming one of the first-ever Internet memes. It went viral before we ever thought of saying things like, "It went viral." But the Mojave Phone Booth wasn't just a meme--it was a genuine, old-school telephone booth, minding its own business on a dirt trail out in a remote section of desert in between Barstow and Las Vegas, about 12-1/2 miles from the nearest paved road--until I happened across its existence and wrote about it on Deuce of Clubs. After that, I began visiting it, and after I began visiting, others began visiting it, and pretty soon people all over the world were having improbable conversations with each other via a hitherto forgotten telephone booth. The Mojave Phone Booth Project was goofy, it was fun, and it altered lives--not only mine, and *mostly* for the good, except for the poor Booth itself: after almost three years' worth of fun and nonsense shared by people around the globe, the Mojave Phone Booth staked its final claim to fame when it became the first (and probably only) Internet meme ever to be targeted for destruction by the United States Government. Even now, almost fifteen years after its destruction, the Mojave Phone Booth lives on, continuing to inspire songs and films and comics and who knows what all. Now there is finally a book that chronicles the entire tale (including many parts that have been hitherto untold).