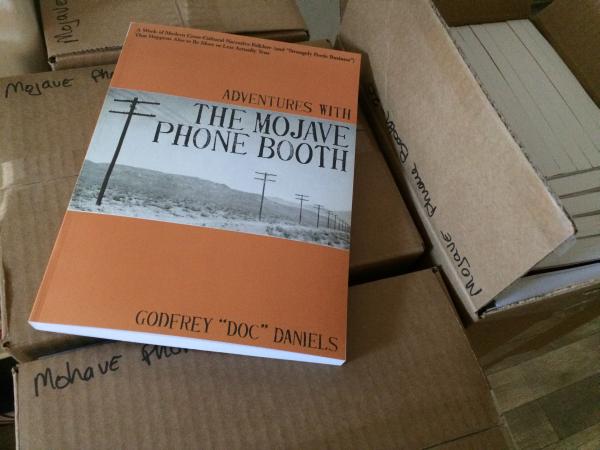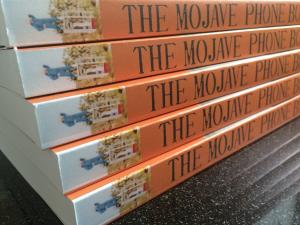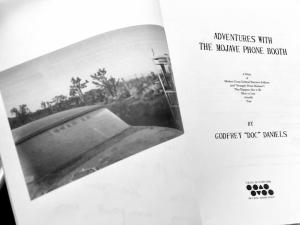 Photo by Colleena S.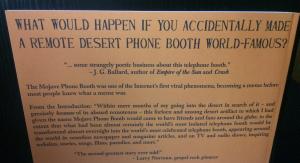 Those of you inside the U.S. can order a signed copy of Adventures with the Mojave Phone Booth by sending either $29.50 ($25.00 + $4.50 shipping) for Media Mail
or
$33.50 ($25.00 + $8.50 shipping) for Priority Mail
(which I'm told is highly recommended if you're in Alaska or, especially, Hawaii) to my PayPal address, ♣ treboles@deuceofclubs.com ♣
(Sorry, it's not clickable because of spam, but you can highlight, copy, & paste it.) Please make sure to include your correct shipping address (even if PayPal has it, because several orders have come in with no address). Thanks!
(Also, let me know if there's someone you want the book signed to; absent other direction, I'll sign it to the buyer.)
UPDATE: Adventures with the Mojave Phone Booth (unsigned) is now available via Amazon if you have access to any of the following:
Amazon.com
Amazon.co.uk
Amazon.ca
Amazon.de
Amazon.fr
Amazon.es
Amazon.it
Amazon.jp
Amazon.com.au If you have access to an Amazon other than the above, try copying one of those urls and then swap in your area's Amazon domain & that'll [probably] work. Sorry, but I can no longer do overseas shipping myself.
---

ALSO AVAILABLE: Adventures with the Mojave Phone Booth in an eBook (PDF) version for $6.95, via the same PayPal address above
(Please make sure to include the email address to which you want your eBook emailed)
---

Many thanks to you all! It's been a long road, and I hope you enjoy the outcome, friends! — Doc
---

(Mojave Phone Booth? What's that?!? Hear me explain it on the podcast 99 Percent Invisible.)
---

On Twitter at: mojaveboothbook
---

What's in this hyar book? Take a look at the index
---

Adventures with the Mojave Phone Booth was made possible with the generous assistance (and damn near infinite patience) of its kind Kickstarter backers: Putchfilms, Sean Anklam, Maegan K, Robb Leatherwood, Douglas, Shaun, someone who identified himself as Sergeant Zeno from the Pentagon, Mari Morton, Jean Howery, John Calhoun, Marie Meadows, Kris Sherman, Whitney Hanson, John, lbjamison, Carolee, Andrew Lenards, Michael Lujan, Elizabeth Butters, Juan Martinez, Heather McGee, April Starr-Rood, Vance Dubberly, Molly Rogers, Ernie Longmire, David Singyke, Andrea Fiegel and Jada White, Oliver Hennig, Tyler Heibeck, Mark A. Thomas, Guy Starbuck, Todd Fusilli, Cliff Davis, Kathy Biehl, Chai Guy, Alison Deline, Nick Price, Steve Courtney, Allison Lowe, Lauren 'o shazbot' Rosenthal, John Binns, Lucky225, Kimberly Reid, Adam Davis, Dan, Jess Zimmerman, Thick Bottom Tacos, Chris Atkinson, Larry Mollica, Jen Garuti, Jason S., Steven Tillinghast, Ken Layne, Greg Thomas, Tim Fross, Dan Shick, Everfalling, It's Not, Chris Eldred, RJ Iacino, Molly Kiely, ogbfnd, Craig Rachel, Rob Vincent, Bratty Man, marissaland, Greg Wojtusiak, TW Hansen, Maylene White, Whitney Anderson, Suzie Strong, Colleena Sabatino, Cynthia, Jim Stanger, Kerry, Sean Stewart, MyzMonika, Michael Wertz, Amy Nichols, Diane, Erik Iversen, Douglas Berdeaux, Jan Switzer, Ross Sieber, Danielle Brandon, Stephen Bluto, Gillian Andrews, Les Hostetler, Tommy Duvall, Catherine Girod, Christopher J Dennis, Lauren M, Brad Carter, Phil Hain, Nicolas Peterson, Megan, Sierk Poetting, Earthtopus, Felicia Yonter, Cody Gardner, Rand al'Thor, Jerry Cuevas Jr., Christopher Davis, Alistair Hedge, Tony Bautts, Matt, Jordan White, Patti Phillips, Jerry Relth, Matt Maxwell, Tim Klein, amberh, Eric Nystrom, Spencer McCall, Phillip Ginder, Steve Mieczkowski, Mary Mahood, Jon Sarriugarte & Kyrsten Mate, Nicole Panter, Chris Jervis, Jim Donavitz, Troy Fuss, Lawrence Frigon, Heather Vescent, Benjamin Hard, Randy Snow, Laura L. Griffin, Bill Hartman, Garrick, David Mertl, lrkm13, Kay McKinstry, Preston Broussard, Kurt Latham, Ken Duffy, Kelly Dillon, Tricia Dove, Simon, Jane Maru, RadHaus US, Lance Adams, Siobhan McAlpin, Martin Mairinger, Justin Park, John Kiniston, Peterpan, Greg D'Avis, Richard Hanisch, Greg Knauss, Tod Weitzel, Adam Kempa, Peter, Auburn Sheaffer Sandstrom, Larry Hosken, KoboldPrime, Adam Fine, Leah Cannon, Kendall West, ydaraishy, Sean Weitzel, Wendy Star Moore, Sean Engard, Sandra Stirnweis, Morgan Hay, B. A. Crumm, Carol Boumiea, Tristan Horn, Ditzyhorse, Kapil Sharma, and Lynda Lanford Thank you all!
GD